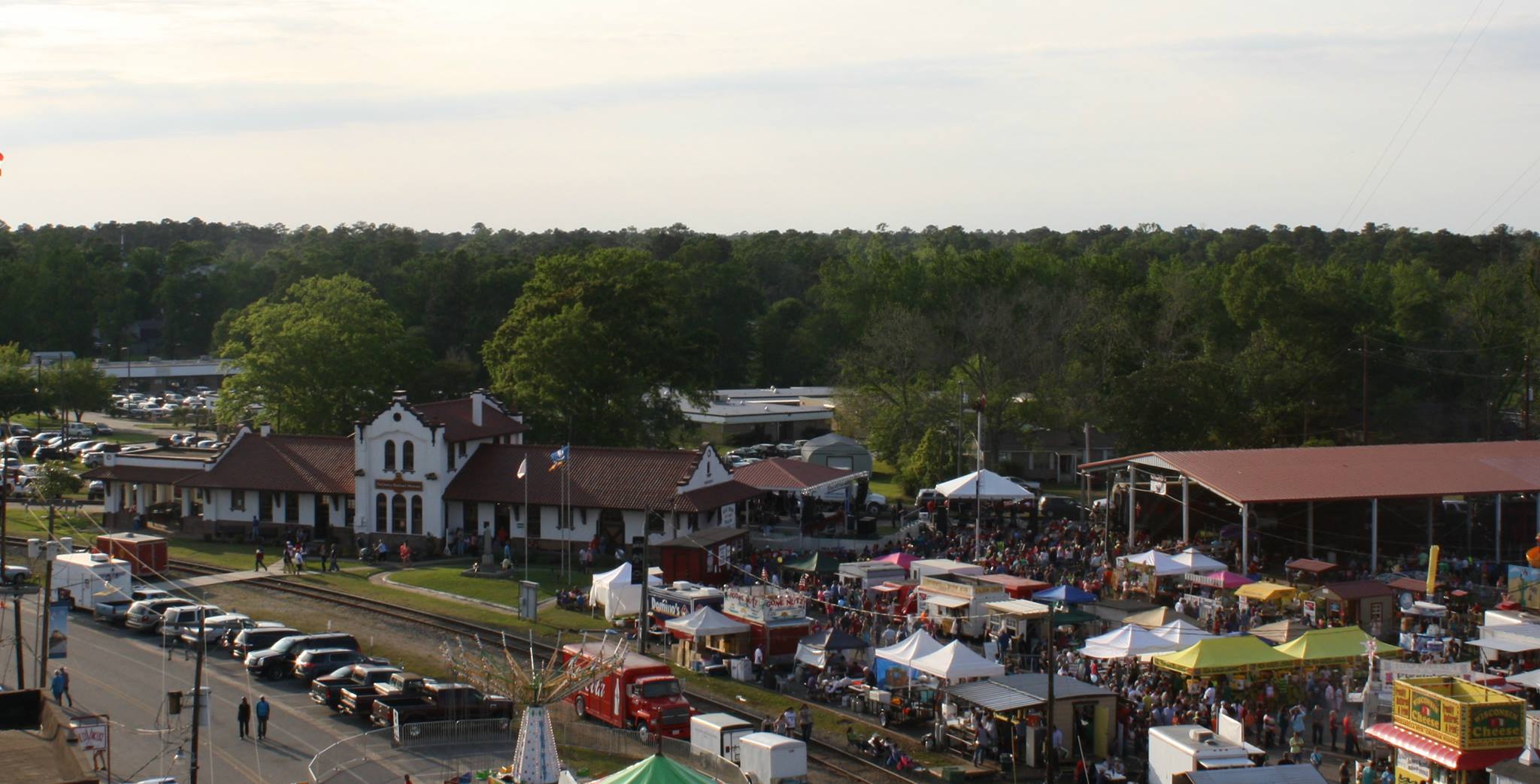 The town of DeQuincy was established by the Kansas City Southern Railroad in 1897,according to historian Mr. T.J. Ratliff. Through the years, DeQuincy grew into a nice size community due to the jobs that the railroad provided. In 1963 two ladies, Mrs. L.L. Irwin and Mrs. Mickey Jameson wanted to raise money for the campfire girls group. They began what was known as the Country Fair. The Country Fair had food booths, games and a few rides. People enjoyed this each year and it began to grow in size. Twenty years later in 1983, Mayor Gary Cooper came to a DeQuincy Federated Service League meeting and suggested that the Country Fair be changed to a Railroad Festival. The club members voted to make this change. Representative James David Cain and Senator Cliff Newman were contacted. They went to the state legislature and through the House Concurrent Resolution Number 3 the fair was recognized as an official state festival. In the spring of 1984, Louisiana Railroad Days Festival evolved. Mrs. Diane Carlson was the President of the DeQuincy Federated Service League, Mrs. Gayle Fisher was the first Festival Chairman and Laurie Bell Young was the first Louisiana Railroad Days Festival Queen.
The festival is held on the second weekend in April each year at the Railroad Museum Park. Many businesses, clubs, churches and schools participate. The festival has always consisted of food booths, crafts, carnival rides, free entertainment and a parade. Thursday, the first day of the festival starts with the K9 Caboose Pageant followed by the Railroad Days Pageant. On Friday, a bicycle parade is held for the children followed by the main parade. The evening hours are devoted to Gospel music. Various churches participate in this program. The festival grounds open early Saturday morning beginning with the Annual RUN THE RAILS 5kRun/Walk and continue until midnight. During these hours there are many things such as the Carnival Rides, Arts and Crafts, and various entertainments on both the main and children's stage. One of the last things of the night is a popular country and western entertainer. During all three days there are food booths, games and carnival rides available.
The Louisiana Railroad Days Festival was prided itself in being a free festival that is family oriented and allows no alcohol. The city of DeQuincy and surrounding areas have been blessed by the festival each year. I would conclude that since Railroads have been a very important part of DeQuincy, that it is the perfect place to have the Louisiana Railroad Days Festival.
- Summer Royer
Festival History
Year By Year